Our favorite TV shows have the power to make us laugh, cry, and feel the whole gauntlet of emotions in between. Two of the greatest things are weddings and TV, so we decided to combine the two and compile a list, in no particular order, of our very favorite TV weddings!
Jim and Pam (The Office)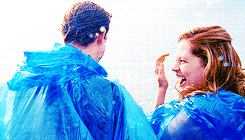 Quite possibly the most romantic, yet also hilarious, wedding that has ever been seen on TV. The look on Pam and Jim's face while watching their coworkers dance down the aisle to "Forever" by Chris Brown is priceless. Then having a romantic ceremony with just the two of them while being sprayed by Niagara Falls… Tears. So many tears.
Dr. Brennan and Booth (Bones)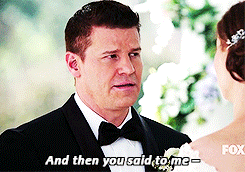 After NINE, yes I said NINE, seasons of waiting for our favorite crime fighting duo to get married, it finally happened! But not before some trouble; their original wedding venue got burned down the night before! However, as usual, the two figured out what to do and still ended up with a beautiful and memorable ceremony at the location of their first case together.
Leslie and Ben (Parks and Recreation)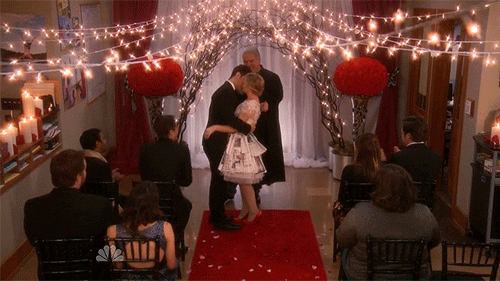 Leslie and Ben. The number one couple of all time. The number one wedding of all time. There aren't enough good things to say about this cinematic masterpiece. On a whim, Leslie and Ben decide to have their wedding at the Lot 48 fundraiser. However, their hopes are dashed when a kerfuffle with Councilman Jamm lands Ron in jail. After Leslie bails Ron out, he brings her back to the Parks office where she discovers that all the other Parks employees have set up a perfect and intimate ceremony, complete with a stellar rendition of Andy's best song, 5000 Candles in the Wind. Perfection, y'all. Perfection!
Callie and Arizona (Grey's Anatomy)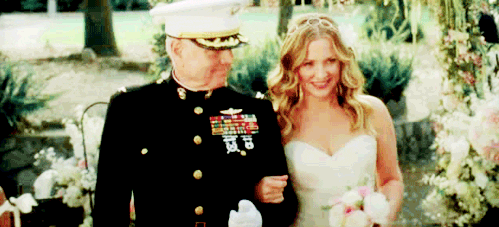 While Callie and Arizona's wedding day starts out with heartbreak when Callie's mother admits that she isn't supportive of Callie marrying a woman and refuses to attend the wedding, it ends up being exactly as lovely and picturesque as this beautiful couple deserves. Alas, there are no happy endings on Grey's Anatomy (why do they do this to us?), but it was good while it lasted.
Chuck and Blair (Gossip Girl)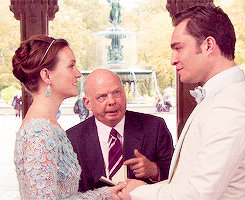 While not under the best circumstances, Chuck and Blair's wedding is still one of the most memorable TV weddings of all time. Viewers have to wait until the series finale to see this couple finally be wed, but the wait was well worth it!
Phoebe and Mike (Friends)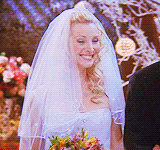 In "The One With Phoebe's Wedding", a snowstorm has hit Manhattan on the day of Phoebe and Mike's wedding. Monica is barking orders at everyone, the minister can't make it due to the snow, and tensions are running high. However, the wedding must go on, and the image of Ross carrying Chappy the dog down the aisle is one that will never cease to make me laugh. Phoebe, being Phoebe, refuses to wear a coat, and Joey, still ordained from Chandler and Monica's wedding, officiates the ceremony. There couldn't be a more perfect wedding for quirky and fun Phoebe Buffay.
Robb and Talisa (Game of Thrones)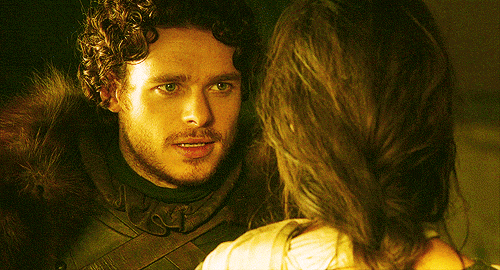 Let's just ignore how this perfect union comes to an end. Don't even think about that. Just think about how beautiful their secret ceremony under the Weirwood tree was. Think about how in love they were. Don't think about how their marriage was the reason for the Red Wedding. Robb and Talisa may have caused some problems, but their love was a bright light in the general darkness that is Game of Thrones.
Cameron and Mitchell (Modern Family)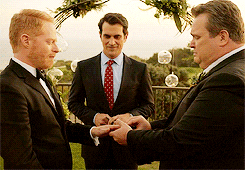 In a comedy like Modern Family, the serious and emotional moments really stand out. Cam and Mitchell's wedding was certainly one of those moments, and it left many people in (happy) tears. After years of waiting, this happy couple finally being able to get married was unforgettable.
Meredith and Derek (Grey's Anatomy)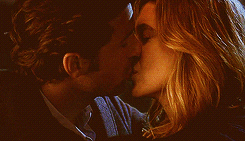 While their wedding wasn't exactly a real wedding, it was still a beautiful moment between two people in love who pledged to spend the rest of their lives together. That makes it a wedding, right? They wrote their vows on a Post-it note that Meredith had in her pocket, and then hung the note up in Meredith's locker. Boom, married. Later, they had this Post-it framed so it could be displayed above their bed. So sweet. So sad (don't think about it. Just don't).
April and Andy (Parks and Recreation)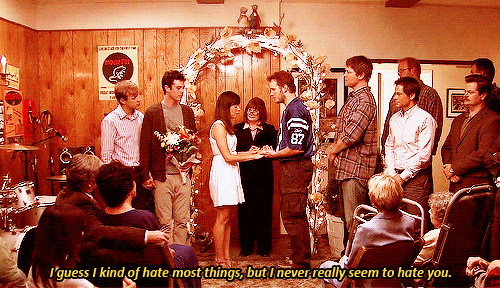 The writers of Parks and Rec certainly know how to do weddings. April and Andy's wedding was a surprise for everyone, including the guests of the wedding. After being invited to the new couple's house for a dinner party, they were astonished when they learned that the two were getting married after having dated for only one month. Though everyone assumed that the marriage wouldn't last, April and Andy prove everyone wrong by being a stable couple and continuing to be madly in love for the entire duration of the show.
Is your favorite TV wedding on the list? Let us know!
Related:
15 Wedding Flicks to Watch Before Your Big Day
How to Have a Game of Thrones Inspired Wedding
The 10 Songs Your Wedding Needs
The post The 10 Best TV Weddings To Watch Before Your Big Day appeared first on The Pink Bride.